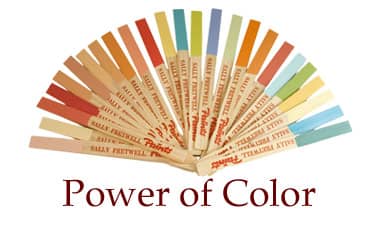 Sally has spent over 30 years working with paint and colors and their development.  After many years of color consulting she realized that the paint companies were not producing the warm colors and textures she required.
Finally, Sally started formulating her own colors and ultimately developed her own paint stores.  This took place many years ago and she no longer owns her stores, or her paint lines. Sally's experience and paint color work is now the basis of her color consulting.

Through her paint stores and the paint lines, Sally has formulated over 400 paint colors, each with its own special tones and hues designed for warmth and living color.   Many of her special colors and names have been adopted by paint companies throughout the county.
Sally has learned to develop her color formulas though thousands of hours of tinting and working with paints applied on actual wooden sample sticks, there by achieving the true color of the new paint colors.  Sally has delivered thousands of gallons of her paints to clients across the country through her site consultations.
Having consulted both Nationally and Internationally, in both Commercial and Residential arenas, Sally has developed an unparalleled cadre of experience.
Even with all of her efforts in this field there is nothing Sally loves to talk about more than color.  Her books are designed to empower people to dare to strike out and use the "Power of Color".  Contact Sally anytime for help.
In Sally's own Words….
"After spending years tweaking colors for my clients to fit their décor, I found that I could enhance the colors (ie.,bring more life, depth of field, and make better colors) to add more color value, as well as develop a paint line that could draw in natural sunlight.
Helping people with color by uplifting tones, and adding warmth, always supports people's over all well-being.  I often used color to help children with learning and anxiety disorders, and people with light deprivation issues (i.e., North East in the winter).
My colors have been used in hospitals, restaurants, office buildings, hotels, schools, and administration buildings to add productivity and help the staff and clients to feel more grounded and comfortable.

Some Vintage Views of Sally and Her Old Paint Labels